Paul (BScAg EFANCAS1) and Georgina (BHSAI4) Tapner with their children Joshua and Madison form the crux of the Tapner Eventing Team.
An extremely driven, hard working and likeable person, Paul has reaped the rewards of his dedication with wins at all levels in eventing, both nationally and internationally on a huge variety of horses. Most notably he was the winner of the Mitsubishi Motors Badminton Horse Trials in May 2010. Riding on a wave of success in the early part of the 2010 season, Paul led the field after a copybook cross-country round with 'Inonothing'. He kept his cool and stayed focussed to the end to finish with a double clear and the honour of winning the most prestigious three day event in the world. Since that day the media and all round equestrian interest in Paul has increased and he is now in demand for sponsorship deals, media interviews, training clinics and even video training as well as his day to day work as a rider and trainer of event horses.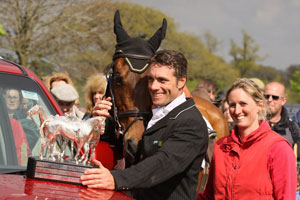 Paul is loyally assisted by his wife Georgina who is a fundamental part of the team and helps to keep the show on the road so that Paul can concentrate on producing the horses to the best of their ability. Georgina works tirelessly in the yard, organising event entries, horse travel plans, managing staff, liaising with sponsors and owners, monthly invoicing and bill paying, training some of the riders at Wickstead Equestrian Centre and, on top of all that, looking after their two children – Joshua and Madison.
Paul and Georgina make a great partnership and they and their team (including the mini Tapners!) can always be spotted at events in their trademark red team clothing.